The Braehead Wedding Exhibition
• Mar 15th 2022 • by GLASGLOW GIRLS CLUB • 0 Comments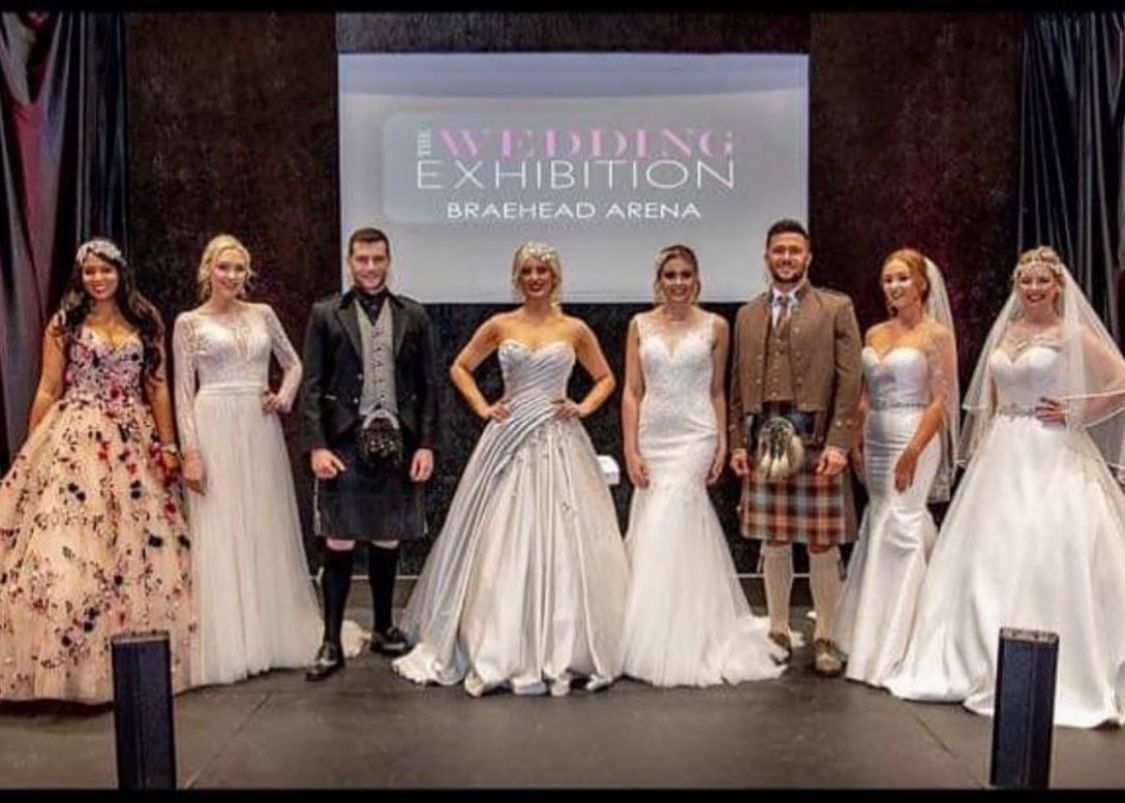 The Braehead Wedding Exhibition
Earlier this month we had the pleasure of talking to Kareth and Nicole who have put together Scotland's most fabulous wedding-related paraphernalia into one showcase! A veritable one-stop-shop for all your wedding needs, the event at Braehead Arena – which takes place on the 14th and 15th May 2022 – is a lovely reminder of the fanfare and celebration that was possible pre-pandemic and is finally coming back for bridal parties across the globe!
The event was founded by Kareth McCarthy, who previously had run similar smaller-scale shows in town halls and hotels. But she always had aspirations to make the event bigger, with more suppliers, a bigger catwalk, and more bands to showcase.
Nicole Mitchell later joined, and felt Braehead Arena was ideal: similar exhibitions already existed in Glasgow Centre and Edinburgh, but Renfrewshire hadn't seen anything like it. Of course, they were both aware that too much noise and fuss could be overwhelming for couples, and highlighted that the atmosphere is very relaxed. 'It's just got that great balance of great suppliers and things to do at it', Kareth told us.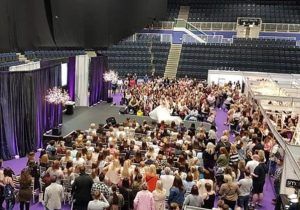 Another advantage of having it at the Arena is the free parking, which makes it more accessible and affordable for couples who may well spend the whole day there seeing what's on offer. This year, a weekend ticket has been added to the line up so that couples could have a think overnight before returning to make decisions about their big day.
Soon-to-be-wed couples can find the reception by following the sounds of the exhibition's custom piper (hard to miss!), where they will receive a wristband that lets them come and go as they need to (for lunch, shopping, etc.). With over 130 wedding professionals, catwalk shows, band showcases, and wedding car displays, breaks will be a necessity to properly see it all!
What makes the exhibition stand out
Kareth and Nicole explained that what makes this showcase unique is not only the breadth and variety of suppliers, but the somewhat unusual categories that you'll find, including quirky wedding activity options. These came to be part of the exhibition due to client feedback from previous years. 'Because we're exhibitors ourselves, and we exhibit at other shows too and have done for so many years, we work it from an exhibiter's point of view and you see what people are looking for and you get feedback from visitors,' they explained.
What's great about the event are the numerous benefits of in-person exhibitions versus booking online, which we discussed. For instance, we noted that securing a photographer with whom you have a good rapport is vital, because you will be spending the whole day with them, right until the last dance. You really depend on so many different people – photographers, videographers, cake decorators, etc – to make your dreams come true on the day, so building good relationships with them takes some of the stress and nerves out so you can properly enjoy the big day.
It also allows couples to see the quality of the supplies in-person, which doesn't always translate via digital image; this is important for cake suppliers, where couples can get a better sense of the ingredients used and the quality of the cake itself.
Similarly, hearing the three amazing bands that form the showcase play live is a much better indicator of how the music will sound on the day. The bands play twice daily across the two days at different timeslots and include Fiore Wedding Band, Fortebeat, and the Brammers (formerly known as The Singer Swingers). The first two are big bands, being six-piece and five-piece respectively, while the latter are two guys (sometimes with a third or fourth) who specialise in swing, oldie hits, as well as more contemporary hits from the '80s onwards.
Seeing them in person will also help you visualise whether your venue can accommodate a bigger band, or whether it might be better for a smaller one. The Splendid Gentlemen, while not performing, also have a stand that you can check out.
In a similar vein, seeing the catwalk come to life is also a sight to behold, with an amazing variety of kilts and dresses shown off by models who know how to work a crowd! It's a fantastic atmosphere as well as a brilliant way to see in person how it will all look. The catwalk showcase is included with your ticket and there is two opportunities to sit back and enjoy it each day!
Of course, there is also the convenience of having so many different types of suppliers in one place; it can be super time-consuming to have to go to so many different garages just to find a wedding car! At this event, you can make decisions about all the supplies/suppliers mentioned so far in the one place.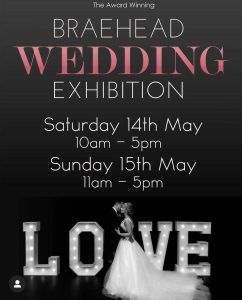 Top Tips for attending
In terms of the exhibition, the ladies also had some wisdom to share in the form of three top tips for attending, especially if you have never been before. They said, first and foremost, wear flat shoes! You will be walking around the exhibition for possibly hours, so comfort is a priority over style here.
Secondly, make sure to bring a bag, as you will receive lots of flyers from different suppliers and it will save you having to awkwardly hold them all. (Fortunately, if you do forget, Kareth and Nicole have 'bride-to-be' tote bags for sale at the reception!). The feedback Kareth and Nicole get is that suppliers are very laid back and approachable, so you won't need to worry about being overwhelmed by people looking to sell you their services!  They noted that suppliers are happy to hand you a flyer and for you to move on, and you can always come back and talk to them if you're interested.
Thirdly, a planner book is also ideal to bring along to take a note of any names of suppliers or quotes you receive so that you can plan properly at a later date. Kareth and Nicole mentioned that people often email them asking about suppliers they spoke to but don't remember the name of, so it's helpful to have something to write names down on; it also avoids spontaneous decisions, so you can go away, have a think, read reviews, and come back with an informed decision. It's good to bear in mind that some suppliers will offer a discount if you book at the exhibition, so it's worth writing things down and booking both days so that you have time to think, come back, and make a decision within those two days. Full timetables for the catwalks and band showcases are available online too, if you're looking to plan your day(s) at the exhibition in advance.
Suppliers
Lastly, there are in fact a few spots left at the exhibition for suppliers! If you have a wedding business that you'd like to showcase, please get in touch with Kareth and Nicole here: https://www.braeheadweddingexhibition.co.uk/exhibit-with-us.
Tickets
Although oriented to couples planning their wedding, Kareth and Nicole emphasised that anyone is welcome to join, whether planning a wedding or perhaps simply looking for inspiration. The exhibition is flat and wheelchair accessible, with lifts available for the band showcases taking place upstairs.
So if you are looking to join the event in May, single-day tickets can be bought in advance or at the door, at the respective prices of £12.50 (for pre-booked tickets) or £15 for on-the-day access. Weekend tickets are £20, and children under 14 are free to enter.
If you buy your tickets before the end of April, make sure to use the GGC community code GGC10 for 10% off! Tickets (as well as exhibitors) can be found on their website: https://www.braeheadweddingexhibition.co.uk/tickets, or check out their Instagram @braeheadweddingexhibition. Hope to see you there!