• May 16th 2023 • by GLASGLOW GIRLS CLUB • 0 Comments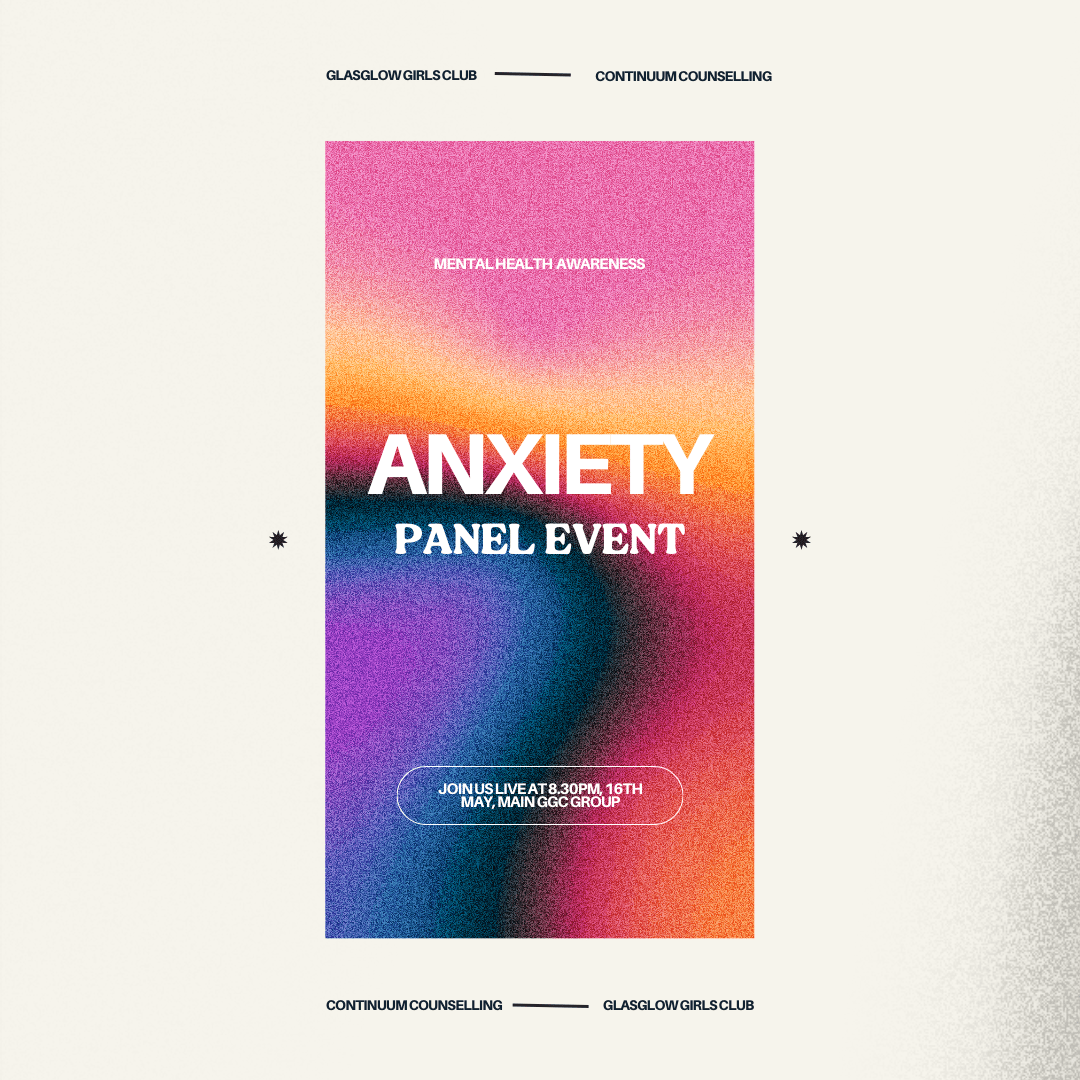 This week is Mental Health Awareness Week and the focus is anxiety.
panel event – 16th may, 8.30pm streamed live into the main ggc group
TW – anxiety
I have always been a 'worrier' and have been living with anxiety since I was a child.
Folk are often surprised when I tell them this because, as someone once asked me: 'Why do you keep putting yourself out there if you have anxiety?'.
I guess what I have is high-functioning anxiety. Swan on the surface with flippers going like hell underneath.
I have always been someone to sweat the small stuff, who cares too much about what other people think, who would people please to my own detriment and who would often wake in the morning feeling worried…for no real reason.
When it comes to anxiety, I know that everyone's experience can be totally different. There doesn't seem to be a one size fits all when it comes to managing it either.
Recently in the GGC community, myself and the admin team have noticed that there has been an increased frequency of posts going into the group around members feeling or living with anxiety.
And it is for this very reason, and to tie in with #MentalHealthAwarenessWeek, that tonight I am going to co-host a zoom with accredited counsellor Karen Lafferty, bringing together an array of GGC Business members to talk about anxiety through each of their own areas of expertise and incorporating tools to help manage it.
Here's the line up for tonight, please do join us live in the GGC group at 8.30pm if you can (the video will also be available to replay if you can't).
Karen Lafferty – has a background in Psychology and is a BACP Accredited Counsellor at Continuum Counselling, with over 13 years of experience supporting clients with their mental health. Karen is also the founder of The Zen Zone Lanarkshire, running meditation, mindfulness and reiki workshops that focus on the science of self-care. In Karen's session she will be focusing on everyday anxiety vs when to seek help.
https://continuumcounselling.com/
I Am Jen Wilson, The Healing Rebel – is highly qualified in: Pilates, Yoga, Massage, Meditation, Nutrition, Barefoot movement, Functional movement, pre & post natal, orthopaedic conditions, biomechanics, Reiki, NLP, and a BSc Sport & Exercise Science. Author of Become a Warrior Woman, 9 Rules to Sort Your Shit – Jen's mantra is 'move better, feel better' and her focus will be on movement to uplift.
Sheila Drysdale– is a Mindset and Life Coach who uses NLP and Hypnotherapy to encourage her clients to make positive changes at Inspired By Sheila. Sheila recently published a book called 'The Users Guide to Anxiety and The Road To Emotional Health'. Sheila's focus will be on our relationship to our thinking and tools we can use to achieve emotional health.
Ash Victoria – is a qualified mindfulness practitioner (British Psychological Society recognised) with a BSc (HONS) degree in Psychology. During our session Ashley will be focusing on low-self-worth and low confidence and how this plays into anxiety, providing tools to quiet that critical voice and increase our feelings of self-belief.
https://www.ashley-victoria.com/
Gail McPake – is a Leadership Coach and Facilitator who specialises in wellbeing and resilience at Gail McPake Consulting Ltd. Gail is going to be talking to us about understanding our emotions, sharing some of her top tools for building our resilience muscle and 'topping up our tanks' for better wellbeing.
https://www.linkedin.com/in/gail-mcpake/
Gillian Park– Founder of Rainbow Park Yoga is a professional children meditation teacher and supports young people from 18 months to 18 years in Mindfulness, Meditation & Yoga (qualified practitioner of level 1 and 2 Rainbow Kids Yoga & Mindfulness). Working throughout Central Scotland in Schools, Nurseries and Charities, Gillian's focus during the session will be on benefiting children's mental, emotional and physical wellbeing.
http://www.rainbowparkyoga.com/
Angela MacVicar is the Chairperson/Head Of Operations Rainbow Valley Charity & Network. Rainbow Valley empowers families and friends to take a holistic approach to living with and overcoming cancer. During her session Angela will be sharing information on the unique Rainbow Valley Course and how it can empower with education and exercise.
https://www.rainbowvalley.org.uk/
Stacey Wilson – is a Self Discovery Coach who helps women to understand their true selves, gain clarity and take back control. During her session Stacey is going to be focusing on situational anxiety, its causes and share some tools to support.
https://www.linkedin.com/in/staceywilsoncoaching/
Lisa McCabe – founder of Whole Dog Care is an animal holistic therapist, aromatherapist and herbal healer. Lisa's will be focusing on anxiety in pets, with a focus on dogs, to both help alleviate anxiety in your dog and how to manage this as owners.
And that's not all, throughout the week an array of business members will be sharing their expertise in the group in relation to anxiety. If you would like to catch up on what has been shared, search #MentalHealthAwareness.
* Please be aware that any advice shared during this session or indeed in the group isn't intended to replace medical advice and if you are concerned about your health you should speak with their GP *