• Jan 20th 2021 • by GLASGLOW GIRLS CLUB • 0 Comments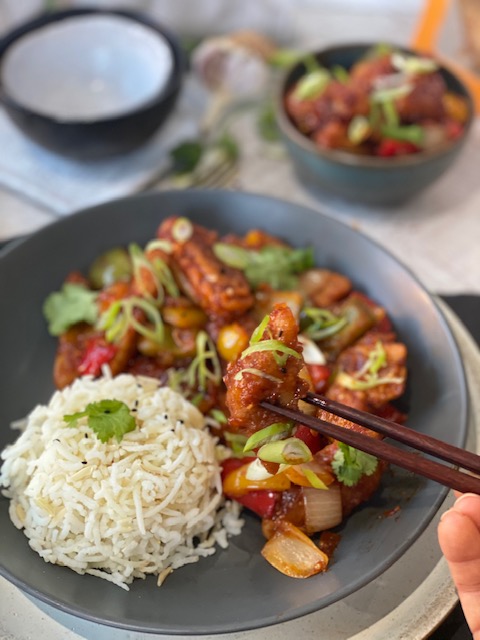 I'm so excited to share this delicious Chilli Chicken recipe, it's a perfect Saturday night fakeaway.
It's a real #veganuary2021 dinner, double crisped chicken, in a spicy, tangy sauce mixed with crunchy vegetables served with rice or noodles!! 
Ingredients:
-1 packet of naked without the cluck nuggets 
-3 minced garlic cloves and thumb grated ginger.
-3 tbsp of soy sauce
-3 tbsp of white wine vinegar
-3 tbsp of tomato sauce,
-3 tbsp of chilli paste/or chilli sauce or sriracha sauce.
-Half chunky chopped onion
-Half chunky chopped peppers – mixed colours
-Half onion finely chopped.
-Salt and pepper.
-Chilli flakes
-Coriander
-3/4 cup cornflour.
-Oil for frying
Method:
-Slice the nuggets diagonally into half pieces.
-In a bowl, add 3/4 cup of corn flour, 1/2 tsp of salt, garlic powder, pepper and chilli flakes. Mix with some water to form a thick batter. Add the sliced nuggets and coat well without breaking.
-In a deep pan, add the oil and shallow fry the coated nuggets so they are golden crispy brown on both sides, about 3-4 minutes each side. Remove and place on paper.
-In a wok, add 3 tbsp of oil, fry the finely chopped onion, and the garlic and ginger and mix well. Add the rest of the vegetables, pinch of salt and cook for 1 min.
-In a bowl add all the sauces, soy sauce and vinegar to form a sauce. Add this to vegetables
-Add the crispy nuggets and mix well.
-With the remaining cornflour add 3 tbsp, mix with some water to form a cornflour slurry/paste. Add this to the mix until it becomes a thicker.
-Finish with some fresh coriander, a sprinkle of spring onions and serve with some rice or noodles.