• Jan 20th 2021 • by GLASGLOW GIRLS CLUB • 0 Comments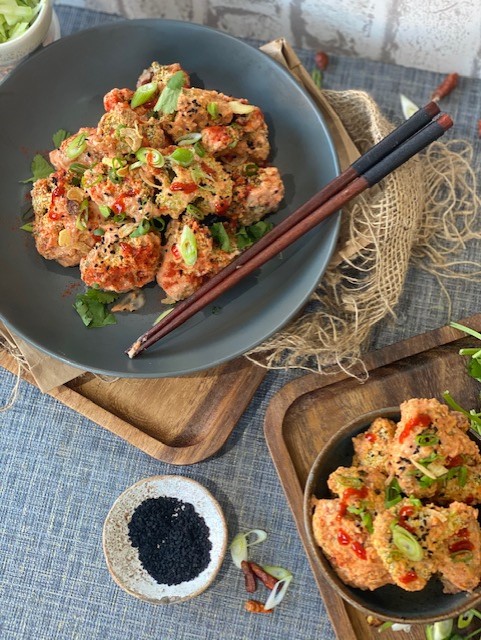 Bang Bang Cauliflower
Go veg or go home 🥦 
This is a brilliant recipe and one you need to make! It's so spicy, delicious and full of flavour.
I love cooking with broccoli or cauliflower, I've shared a few recipes southern fried cauliflower (see previous post). It would work with both it's so tasty! It's brilliant way to use up your veg. 
Ingredients:
-1 broccoli
-40g plain flour
-240ml soya milk
-1 tbsp apple cider vinegar
-1 tbsp sriracha
– 150g panko breadcrumbs
-1 tbsp onion powder, garlic powder, smoked paprika, salt & pepper.
For the spicy mayo:
-4 tbsp vegan mayonnaise
-2 tsp sriracha or chilli sauce.
-1/2 tsp maple syrup or honey.
Method:
-Trim the broccoli into bite-sized florets. Keep the greens, garlic fry  them as a side recipe. 
-Add the flour to a bowl, add the milk and apple cider vinegar stir, leave to sit for a few minutes, then add the hot sauce and stir to combine. 
-In a separate bowl add the panko breadcrumbs to a third bowl along with all the spices powder, garlic powder and generous pinches of salt and pepper, stir to combine.
-Add the broccoli to the batter, make sure they are fully coated. Let the broccoli sit in the batter as long as you can and then dip each broccoli floret first into the panko breadcrumb mix, then place on the lined baking tray.
-Bake for 20-25 minutes until golden brown turning half way, I cooked mine in my air fryer for 15 mins on 200temp turning half way. 
For the spicy mayo ingredients mix all in a bowl and then toss until the florets are coated in the mayo. Transfer the bang bang broccoli to a serving bowl and enjoy.
Save and tag this post !  @hey_renu