• Jan 20th 2021 • by GLASGLOW GIRLS CLUB • 0 Comments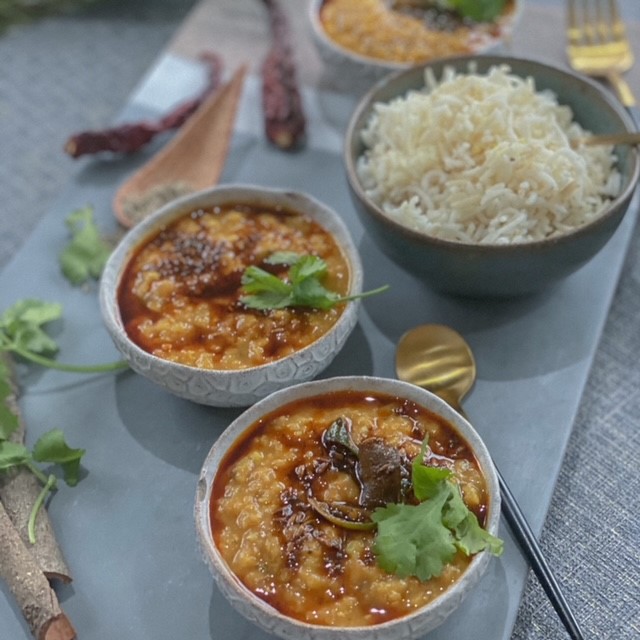 𝔻𝕠𝕦𝕓𝕝𝕖 𝕋𝕒𝕕𝕜𝕒 𝔻𝕙𝕒𝕝
This is soul food!
Such a simple tasty dish that most Indian households eat daily and there are so many versions, I've made it with two lentils to create a creamy texture- my mums recipe! Giving it a double tarka/tempering really does take this to another taste level. 
Ingredients
-180g Red lentil dal (Arhar Dal/ Toor dal )
-100g Chana Dal (Split Bengal Gram)
-3  tbsp vegetable oil 
-1 tsp cumin seeds
-1 medium finely chopped onions
-5 tbsp of passata or finely chopped tomatoes.
-large piece of ginger finely chopped/grated.
-1 large green chilli finely chopped
-½ tsp turmeric powder and salt.
-Spices, 1/2 tsp of garam masala, salt, mild chilli power.
-Handful of finely chopped coriander
For the tadka/ tempering
-2 tbsp vegetable oil
-1 curry leaf
-1 dried mild chilli
2 garlic cloves finely chopped
-1/2 tsp of mild chilli powder, salt, garam masala, cumin powder
Method, serves 4-6.
-Boil the lentils in a pan along with turmeric and salt. Give it a good boil for 15-20 minutes making sure it doesn't turn to mush or burn.
-In a pan add the oil and fry the cumin seeds, followed by the ginger, chilli. Once that has turned a golden brown add remaining spices and the tomatoes and cook down to a dark red paste, sauce. 
-Add the tadka to boiled lentils, scooping every last drop and mix well and cook for a further 10-15 minutes on medium heat, add some more water.
-Turn off and add the coriander.
-For the second tadka, in a small pan, temper the curry leaf, chilli, garlic in hot oil and cook for a 1 minute before adding in the spices, cook for a further 1 minute and add over your lentil to serve. Add coriander and serve with some rice, crispy naan or chapatti. 
So so good! Tag me if you give this a try @hey_renu ❤️