Meet the Member – Maureen Morrison, Spinal Injuries Scotland (SIS)
• Jul 20th 2023 • by GLASGLOW GIRLS CLUB • 0 Comments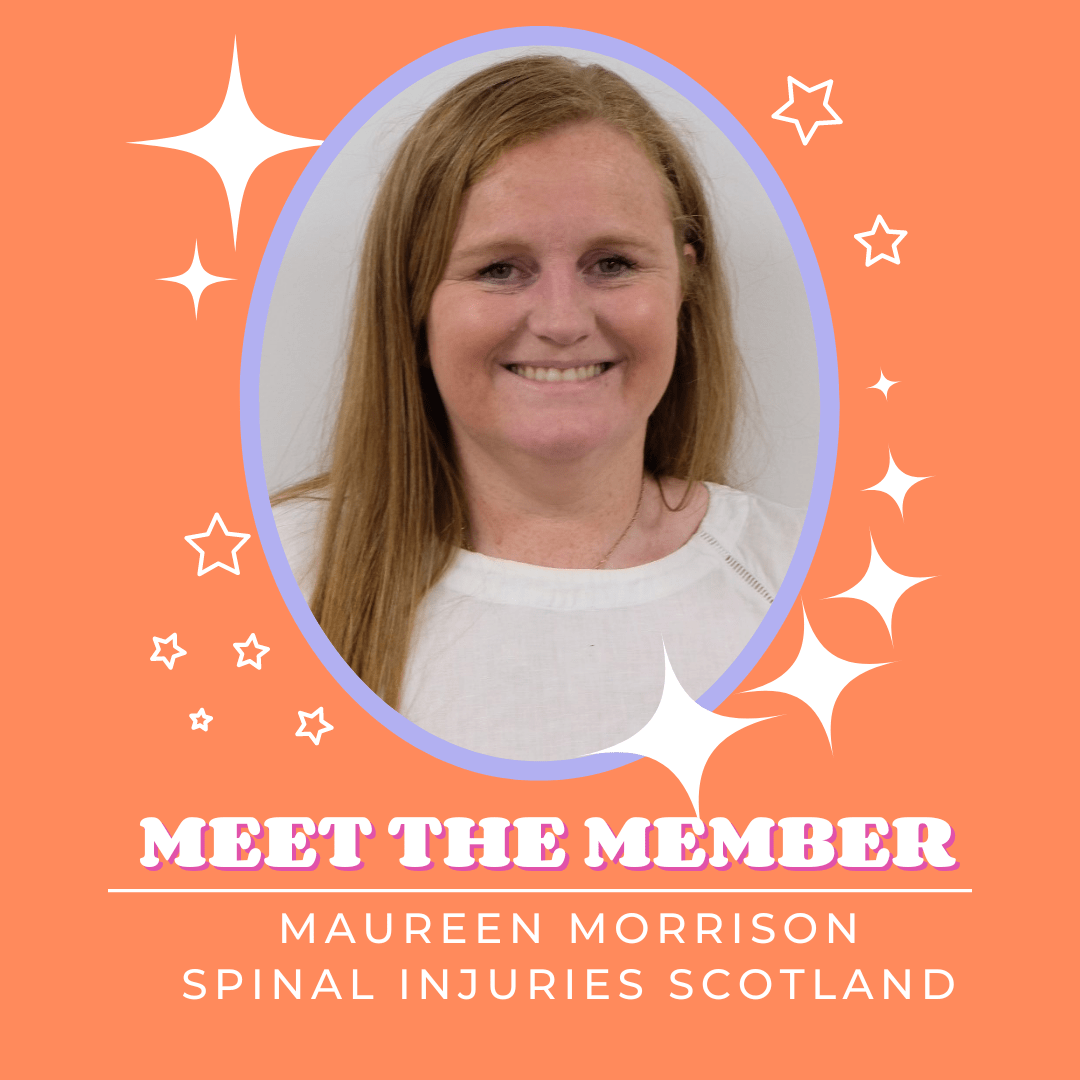 'Meet The Member' is our blog series where we get to know the members of our business club a little better. In this post, we catch up with Maureen Morrison, Spinal Injuries Scotland (SIS)

Name, business name? Maureen Morrison, Spinal Injuries Scotland (SIS)

Tell us about your businesses, the inspiration be-hind it and when you launched it?
Spinal Injuries Scotland (SIS) is a registered charity providing a unique Peer Support Service for new and existing spinal cord injured (SCI) people in Scotland. Since 1960 our staff and volunteers, most of whom have an SCI, have provided one-to-one advice, emotional support, and information to patients in Scotland's Spinal Units, and Spinal Clinics. Since 2018 we have provided an Outreach Support Service, which employs Peer Support Advisors and uses Volunteers to support SCI members in outlying areas including Inverness and the Highlands, Aberdeen, the Borders, and Dumfries. This means that Spinal Injuries Scotland's staff and volunteers are there for patients during their time in hospital, through rehabilitation, and for the long term, back in their own locality among friends and family. We are the only organisation in Scotland whose staff and volunteers bring a unique perspective, drawn from their own experiences of coming to terms with Spinal Cord Injury, to support others throughout the journey.

What has been your biggest lesson/ challenge faced so far and how did you overcome it?
The biggest challenge that we have faced was the repercussions from the pandemic, where normally our peer support team would be in the QENSIU 5 days a week. We were able to turn this around very quickly offering peer support to patients through telephone, teams, and zoom where most of our services were delivered. This year, moving on from the Covid-19 pandemic, we have continued with weekly online Zoom meetings, but also reintroduced our traditional face to face Coffee Meet & Greets once a month to continue a hybrid approach to our services in the South of Scotland.

Covid-19 proved to be a valuable learning experience on how technology, when properly used can reach out and include so many people, some of whom were originally reluctant, or unable to participate in face-to-face activities. Zoom has also made it easier for people with restricted mobility, poor transport links, or those living at a distance from the main population centres to access our services. We have learned how effective digital communications can be in reducing isolation, encouraging new support groups, and helping people rehabilitate through video sessions, and online chats. This is especially important for those members who are isolated, on bed rest or experience other health issues restricting them to their homes.

What are the big business goals for 2023?
We are currently expanding our services and creating networks to reach individuals who have gone under the radar. This will allow us to support our current membership, attract new members, and begin to provide support to those who suffer from Cauda Equina, Spinal Strokes, Transvers Myelitis, Spinal Tumours, and other life changing conditions. We are doing this by connecting with NHS professionals across the country to replicate our Peer Support Service for people with Neurological conditions.

How can the GGC Business membership help?
Raise awareness of the charity for both individuals with an SCI in Glasgow and for fundraising purposes. We have a yearly Winter Dinner Dance and are always looking for auction/raffle prizes to allow us to raise as much money as possible at the event.
        You can find out more about Maureen here