Happy 3rd Birthday To Us!
• Dec 10th 2021 • by GLASGLOW GIRLS CLUB • 0 Comments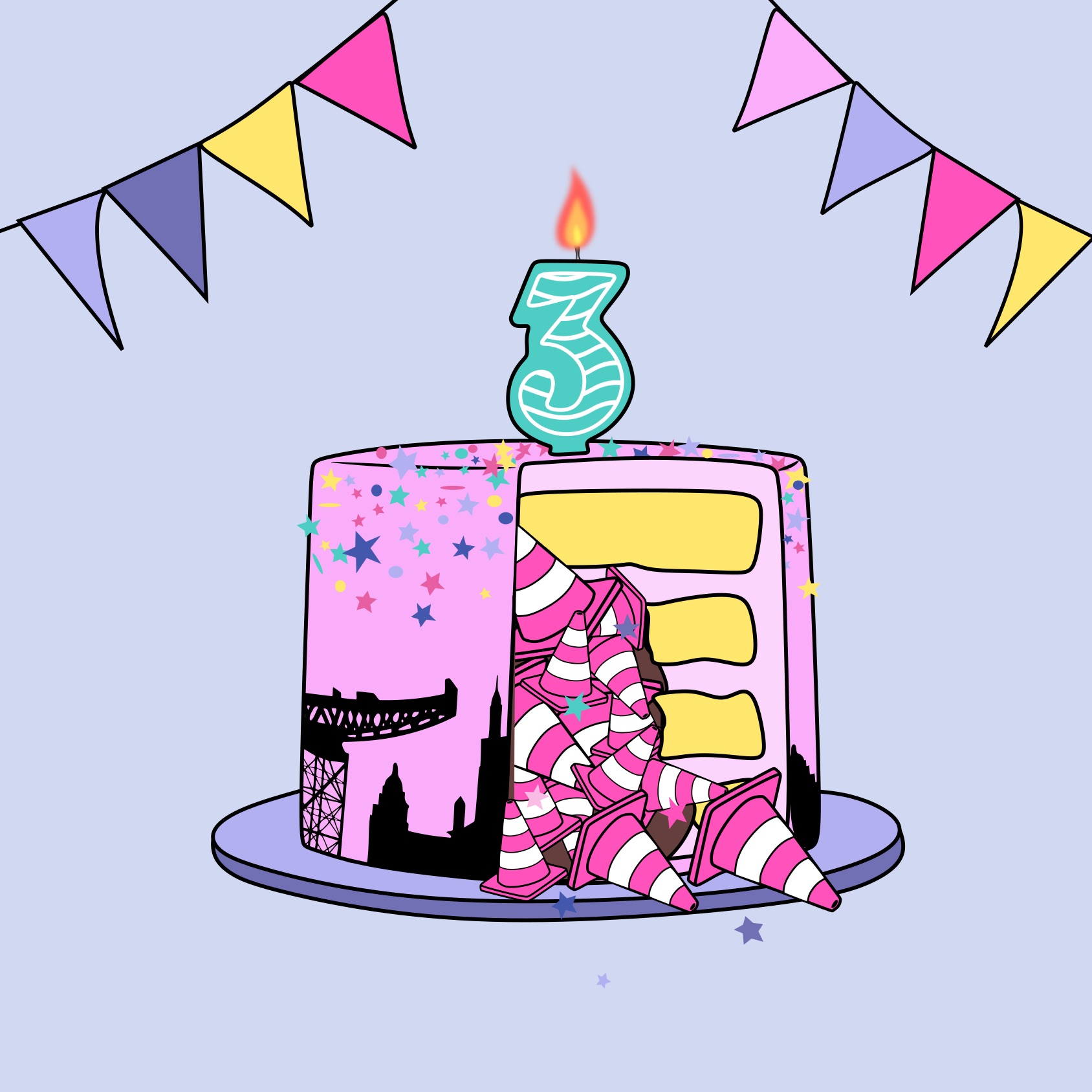 Happy 3rd Birthday to us!!
And what a fucking rollercoaster ride it has been!!! The highs, I have to say, have far outshadowed the lows, but this was my very first crack at the 'business owner' whip and when you throw a global pandemic into 2 out of the 3 years of running a subscription-based business, which originally relied on our members being able to get out and about to events and our partners establishments, I would be lying if said there haven't been parts which have been, well a little tough.
I am sure almost business owner on the planet can relate…
Genuinely though, when I put on my every cloud has a silver lining spectacles (and I try to wear these on the daily), these past 2 years have enabled me and the women who support the GGC to make this membership far better than it was pre-lockdown.
Our goals and visions for both the Social Club and the Business Club solidified, which enabled us to work on increasing the value of the membership for our founding members who have been with us from the start, or who signed up during the pandemic itself.
From the Social Club/ Personal Membership perspective we added in free weekly fitness classes (namely yoga with Jen Wilson and on-demand Zumba with Libby Smith) – one of these alone covers the value of the membership and more per month. We added in our book club, which we can foresee going from strength to strength after two fab in-person meet-ups (prior to that the lockdown chats were all virtual). We created an app exclusively for GGC members which unlocks deals throughout the city and gives our members access to an exclusive what's on diary.  We added a private members-only group, which enabled this community to come together.
Our vision for this membership is all about friendship and trying new things. And it is working! We know members who have been bridesmaids for each other, or who have launched businesses or podcasts together and we are in awe.
From the Business Club perspective, this has truly soared. From our weekly connection Zoom calls (which has seen real friendships and collaborations being forged), our monthly 'Meety Friday' meetups (sometimes lasting into the small hours of the morning), to our Accountability & Growth Programme created in collaboration with Heather Offord (GGC Business Consultant and founder of One 4 Growth), the increased brand awareness offered to business members and our private community, which makes you feel like you are part of a team.
So where do we GLOW from here?
Well, next year is going to be the best yet. 2022 is going to see a re-brand of both GGC Business and the Glasglow Girls Club, because we are ready to take things to the next level. We are adding on a menu of events to encourage our members to put that GLOW in Glasgow. From regular city food tours, to Glow Up Cinema Sessions, Netwalking, Paddleboarding, more Rooftop Brunch Clubs and Escape dinners and of course, our members get first dibs on tickets which are discounted only for them.
The website is also getting a refresh to suit and now with 3 years of curated content for new members, we will also be putting the cost of our membership up to suit the level of value we have on offer.
But for our founding members, those who signed up before 2022, our thank you to you for being there as we shaped the membership, for being true GGC cheerleaders is that your founding member prices are locked in. THANK YOU for being such an imperative part of this business journey.
If you are reading this and have not yet signed up, but want to become part of a club that could have an amazing impact on your life (if you get involved – and I must add this is down to you) we are giving you this weekend to sign up at our founding member prices which are:
Social Club: £5 per month or you can take advantage of a pay in full discount of £35 per year (of which £2 is donated to Social Bite and you will receive a FREE GGC rose gold heart keyring)
Business Club: £10 per month or you can take advantage of a pay in full discount of £70 per year (of which £2 is donated to Social Bite and you will receive a FREE GGC rose gold heart keyring)
Click here to find out more now; https://www.glasglowgirlsclub.com/become-a-member/ – we have just 50 founders memberships left!
HAPPY 3RD BIRTHDAY GGC!!!
Lots of love,
Laura