GLOW TO ST ENOCH – THE GGC WEEKENDER
• Sep 06th 2023 • by GLASGLOW GIRLS CLUB • 0 Comments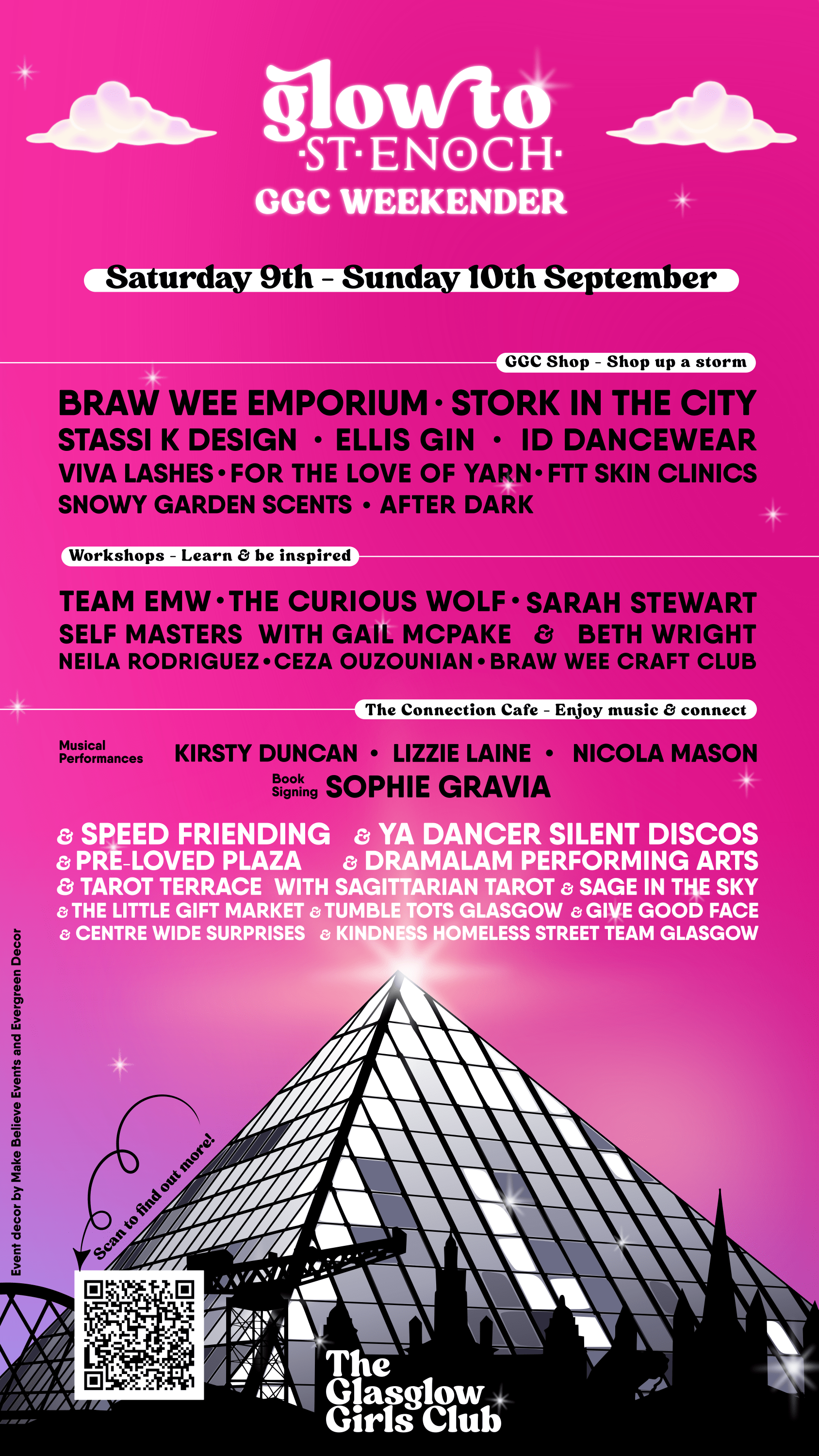 St. Enoch Centre gets a Glasgow Glow up! – Glasglow Girls Club takes over leading city centre destination
 St. Enoch Centre has partnered with the city's leading female networking group, Glasglow Girls Club, to host a one-of-a-kind event.
Between 9-10 September, Glasglow Girls Club will hold a 'takeover' of the much-loved city centre destination, with a variety of workshops, live music, and a book signing with author Sophie Gravia all lined up in what promises to be a memorable. Here's what you can expect from the event.
Book signing with Sophie Gravia
Sophie Gravia, author of the bestselling novels A Glasgow Kiss, What Happens in Dubai and Meet Me in Milan, will be attending with Waterstones to sign copies of her latest book, Meet Me in Milan on 9 September.
Held on the ground floor of the shopping centre in the newly rebranded 'Connection Café', Sophie Gravia will meet and greet fans from 3pm on Saturday. No tickets are required for this! All books purchased at our Connection Cafe from the Waterstone's team will be signed by Sophie.
The Connection Cafe
And Sophie's signing isn't the only thing happening in The Connection Cafe over the weekend. Shoppers can sit and chill with pals and new GGC'ers they have met and enjoy singing from three fabulous members of the GGC Business Club, namely: Kirsty Duncan, Lizzie Laine and Nicola Mason. Whilst there be sure to visit the Give Good Face, glitter, face and body paint bar.
Speed Friending
With 25% of Scottish adults reportedly feeling lonely some or all of the time, St. Enoch Centre is collaborating with Glasglow Girls Club to bring locals together in an exciting new networking opportunity.  Glasglow Girls Club x St. Enoch Centre Speed Friending encourages women to meet like-minded women who are keen to build friendships and meaningful connections in a relaxed and fun environment. Event includes a sparkling afternoon tea with Muffin Break.
The Friendship events will take place between 12pm – 2pm on both Saturday 9th September and Sunday 10th September and every ticket includes a goodie bag to take away plus a £25 voucher for Saorsa Cosmetics.
Silent Discos
The 40,000-women-strong membership organisation has organised, in partnership with Ya Dancer Silent Studios, an array of silent discos to take place, with themes including Kylie Minogue, 80s tunes and children's songs.
Head to the GGC Linktree for a full list and remember each event is multi-channel so you can switch between 3 genres of music 😁
Tarot Terrace 
We often see chat on psychics and witchcraft pop up in our group and so we are delighted to welcome both Sagittarian Tarot and Sage in The Sky to our Tarot Terrace pop up taking place in The Leith Collective on the first floor across the full weekend.
Pre-Loved pop-up
A 'Pre-Loved Plaza' pop-up will take place on the first floor of the centre throughout the weekend, offering pre-loved garments and vintage items to thrifty shoppers.  Sustainability and selling second-hand wares are often chatted about in our group and with it being second-hand September, we thought what better month to do a trial run of a pre-loved pop up.
The organisation's business members will also be able to sell and promote their items in the very first Glasglow Girls Club Shop, located on the first floor. Brands you can expect to browse in the GGC Shop include: FTT Skin Clinics, For The Love of Yarn, Braw Wee Emporium, ID Dancewear, After Dark, Snowy Garden Scents, Stork in The City, Stassi K Design, Viva Lashes and Ellis Gin.
Workshops
An array of workshops will take place over the weekend, all designed to inspire and encourage learning and we have picked some of the most talked-about topics in our Facebook group.
Creative writing with The Curious Wolf,
Arm Knitting and Bottle Lamp Workshop with Braw Wee Craft Club
Manifesting love and how to attract your dream person with Ceza Ouzounian
4 Ways to improve your Self-Esteem with NR Coaching
Resilience with Self-Masters
Perimenopause and Menopause with Team EMW
Get More Time with Sarah Stewart
For the kids
Tumble Tots Glasgow will be set up in the St Enoch Mezzanine with fun stuff to keep the kids entertained, Dramalam Performing Arts will be hosting the cutest of performances outside Gloria Jean's at 2.30pm on Saturday and don't miss the kids silent disco with Ya Dancer Silent Discos taking place at 11am on the Sunday (leaving from just outside HM on the first floor). And if that's not enough, face painting will be available in The Connection Cafe from 10am-2pm with Give Good Face.
Anne Ledgerwood, St. Enoch Centre Director, said
'We are delighted to welcome Glasglow Girls Club to hold a takeover of the centre for this exciting weekend event.
"Glasglow Girls Club is a successful networking group that has clearly captured the hearts of women across the city, and we have very much enjoyed working with them to create this unique event. We are confident it will be a success for everyone involved."
Laura Maginess, founder of Glasglow Girls Club said:
"We are thrilled to be holding the very first Glasglow Girls Club Weekender at this renowned city centre destination – and very much hope it is the start of a long-lasting partnership with St. Enoch Centre!"
"We have so much in store for the event, with everything from tarot reading to flash mobs and even a book signing with the remarkable bestselling author, Sophie Gravia. It's set to be a truly spectacular weekend!