GGC Inspirational Women Blog Series
• Mar 08th 2022 • by GLASGLOW GIRLS CLUB • 0 Comments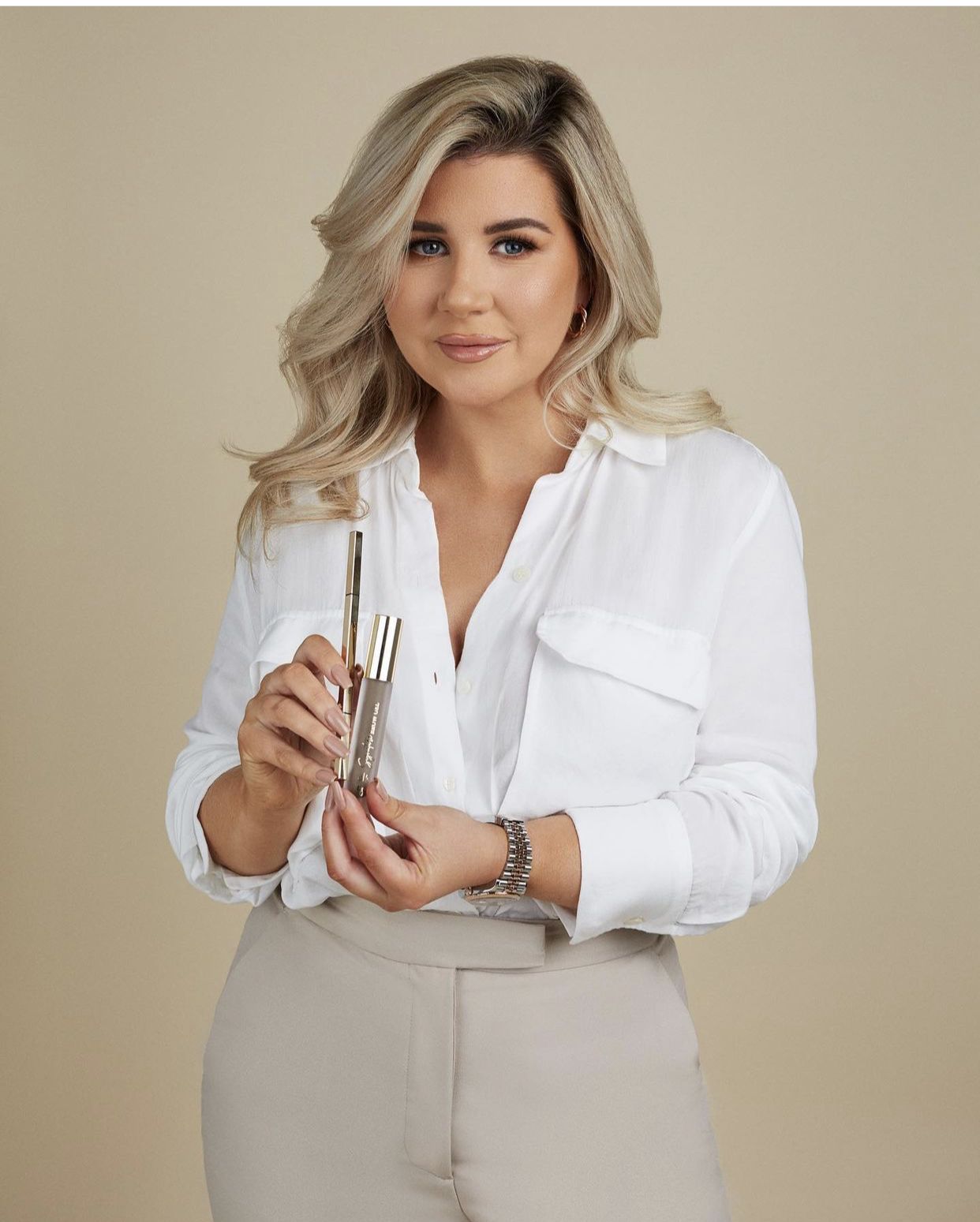 Heather McDowall – Founder Niche Brow Co
When you were little, what was the first job role you saw yourself in when you grew up?
When I was younger I wanted to be a lawyer (right after watching Elle Woods in action in Legally Blond)! But it wasn't for me. I actually studied law right after leaving school but I just didn't enjoy it.
When did the dream of being your own boss first come to you?
I was in my first year at university when I realised I could run my own business. I was doing an enterprise class, it exposed me to the whole world of entrepreneurship and I was intrigued. I always wanted to get into the beauty industry but I didn't want to give up on my business degree so I studied a make up course during the summer break and just went for it! Things built gradually while I completed my studies and once I graduated I threw myself into it and opened my first premises two years later.
Shout out to your biggest female (and male) influences who supported you in your dream?
Two people that I really respect are Maria Hatzistefanis (owner of Rodial beauty)  and Jamie Kern Lima (founder of IT Cosmetics). Both have built up incredible empires in the beauty industry and started from working in their living rooms with minimal resources. They have both shared very honest accounts of their journeys they embarked on to get them to the point of success they have achieved now and I think it's both inspiring and comforting for someone like me, who's still in the early stages of building a cosmetics business, to read these stories and be able to relate. In terms of support, my family and closest friends are always cheering me on – I'm very lucky to be surrounded by good people.
Tell us about your business?
Niche Brow Co is an innovative brow brand that draws on the experience of working directly with the consumer to provide products to enhance their natural beauty and encourage the feeling of being comfortable in their own skin. As a brow specialist, I am in a very unique position for understanding exactly what my customers want when it comes to brow products! 
We launched in December 2020, two years after opening my salon Niche Brow Bar. I am so passionate about corrective work, so that's how the first part of our Grow Up Collection, the Brow Enhancer was created – to speed up the lengthy process of growing your brows back! The success of our first product led us to expand the Grow Up Collection with our Lash Enhancer, followed by our styling products such as the Pro Definer Pencils and Signature Brow Gels. The Brow Enhancer has achieved amazing results in our first year and most recently picked up the award for Best Beauty Product in December which  was a huge achievement.
What was your biggest fear when it came to launching your own business and how did you navigate it?
My biggest fear is probably quite a common one – that it won't work! This was a fear I had when I launched my first business but I haven't allowed this fear to take over when I was launching Niche Brow Co. I don't really allow myself to dwell on it – if I did then it would have such a negative impact on the business. I truly believe in our brand and put so much effort into creating the products we have – I'm proud of what we have achieved so far and I know if I focus lots of positive energy into my brand it will pay off!
Can you tell us about the biggest challenge you have faced in business and how you overcome it?
The biggest challenge was moving into a completely new industry with no experience. Although I have a great deal of experience in the beauty industry from a service perspective – I had zero knowledge of how to build a cosmetics brand with absolutely no clue what I was doing with e-commerce. All I really had was this strong desire to bring out products that were going to enhance people's brow journey – so I learned! I had the advantage of being in lockdown with my salon closed. I used the time to research what was involved with starting a cosmetics brand, sourced and built relationships with labs, made myself familiar with the legislation and built up my knowledge on e-commerce. I'm still learning new things every day!
Have any business challenges presented themselves to you based on you being a woman?
I actually don't think they have! One thing that I will say is that I found it very difficult to get started, for labs to take me and my idea seriously. I don't really think that's down to my gender, but I do sound quite young on the telephone so perhaps that had something to do with it. I didn't give up though and I found my feet in the end after lots of setbacks.
What was the best piece of advice you were ever given when it comes to owning your own business and what would you pass on to a woman who dreams of becoming a business owner?
The best piece of advice I ever had: stop taking things so personally! When you own a business and feel as passionate about it as I do, it's hard not to take things personally when things go wrong. This is something that I've been able to work on over the years and is definitely a reflection of my growth as a business owner. We can't always control what happens within our business but we can control our reactions. I'd pass this advice on to any budding entrepreneur but I'd also say give yourself time to grow – we are all human at the end of the day and we can learn from every experience we go through whether it's positive or negative whilst building our empires!
Share with us a standout moment in your career/ working life?
Launching Niche Brow Co has been such a stand out moment for me. We started with one product, no big launch event, in the middle of a lockdown and no prior experience in the cosmetics industry. We made sales as soon as our website went live and that was down to the fact that my customers trusted me! We had limited reviews and before & after pictures but people were buying the product. At that moment I realised my existing client base and community had confidence in me to create purchase worthy products even though I was brand new in the cosmetics game – that was such an achievement for me!
What are your 3 top tips for success?
Believe in yourself! If you don't think you can achieve it – why would anyone else? It's really important to have a positive attitude as if you're constantly looking at things from a negative perspective it will hold you back. Set yourself two types of goals – ones that are achievable in the short term and those that you want to achieve in years to come. I look back at those goals when I'm having a bad day and when you know you've achieved them it's so motivational.
Do you think it is important to regularly work on your mindset as a business owner? And do you have a favourite mindset coach (e.g Mel Robbins) or go to podcast that can always amp up your motivation?
Absolutely! I've experienced the highest amount of pressure in this last year and it has taken its toll a little. When I'm feeling overwhelmed, I like to connect with like minded people. It can be easy to feel like you're the only person going through a struggle in your career but in actual fact, every business owner goes through hard times. I like to listen to the Product Boss podcast to inspire me and get the ideas flowing in my mind!
What healthy habits do you swear by when it comes to your working week?
You'll do your best work when you feel good! I make it a priority to go for a walk every day, usually before and after work, which clears my head. I also prioritise time for workouts as this has such a positive impact on how I manage stress levels. I'm no use when I'm tired so I try to get as much shut eye as possible!
Is there a mantra that you live by?
Surround yourself with good people and good things will happen! Having a good team is important with regards to work life and personal life. If you're surrounded by negativity, after a while it affects your mindset too.
You are a fiercely fabulous female, would you consider yourself to be a feminist?
I believe in equal rights for everyone. I am in a largely female dominated industry, and I see so many women doing well for themselves and I love that! The opportunities we have to grow now are amazing and it's great to see so many people following their dreams.
What does feminism mean to you?
To me, feminism means equality regardless of your gender. The fact that I feel like I haven't been discriminated against in my career because of my gender, makes me think that we've came along way over the years which is great. However, there are women that do experience this so I think that the conversation around equality must continue.
With equality for all humans being the ultimate goal, how do you think we as women can help shape things for the future generations of women?
We can support each other! The amount of inspirational people I have met during my career is incredible and I believe when you make the effort to show someone support, others will be more inclined to support you – we all need it along the way. It's important to educate ourselves on the topic and strive towards genders working together to achieve equality and balance.
You can visit Niche Brows website here or find them on Instagram