Back To School Essentials with Macb
• Aug 17th 2022 • by GLASGLOW GIRLS CLUB • 0 Comments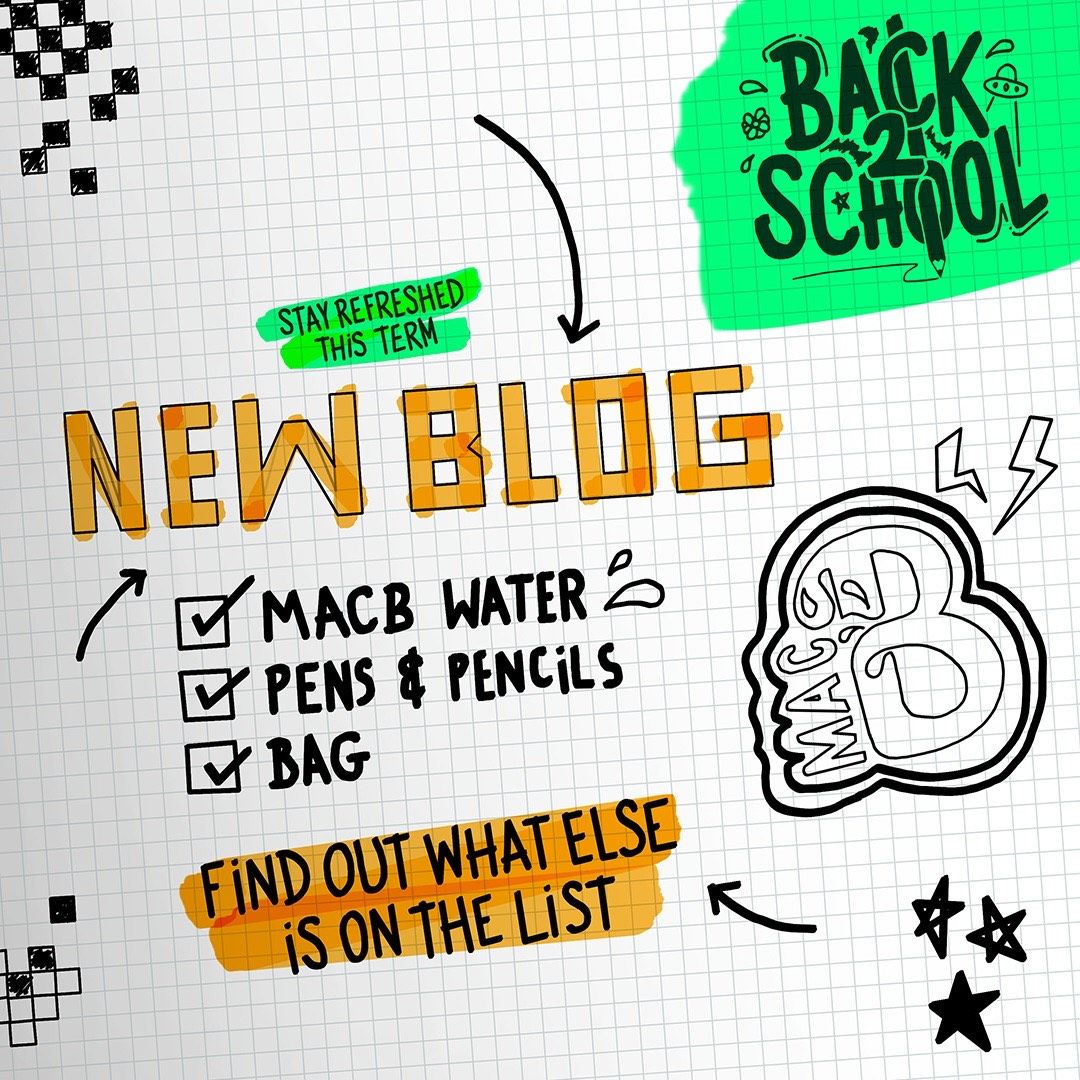 Can you believe the summer holidays are over for the kids already?! We have teamed up with Macb to help them spread the word about back-to-school essentials, and share some unmissable competitions they have coming up, starting with the chance to win a brand new iPad which is currently live over on their insta over at @macbwateruk – so what are you waiting for? Head over there now for your chance to WIN and read on to hear from the team on their back-to-school essentials!…
Is it just us or have the summer holidays flown by? If you've still got to hit the shops for back-to-school essentials, don't panic – we've put together a list of some of the back-to-school essentials you need to get top marks on the first day of term!
The write stuff
For us, the best bit about the first day of term was a nice new pencil case packed with new pencils, erasers, pencil-sharpeners, and pens (especially if there was a glittery gel pen or two in there!). Help them make the write (sorry, right!) start with a good selection of stationary supplies.
Dress to impress
If your children's school has a uniform, it's time to stock up on shirts, trousers or skirts, school jumpers and PE kit. Not sure what they need? Most schools have uniform lists on their websites – grab a quick screen shot of it on your phone and use it as a shopping list to help make sure your kids are correctly kitted out. Our tip – buy on the large size as they'll grow quickly!
On a budget or want to reduce waste? Lots of schools have second-hand uniform shops or keep an eye on local social media groups for offers, cheap or free second-hand items.
Don't lose it
How is it that some kids manage to lose half of their uniform between drop off and pick up? Whilst it won't stop them leaving their jumper on the playground or losing their trainers after gym, making sure their stuff is clearly labelled gives you a chance of seeing their things again. Whether you go for old-school sew-on name tapes, iron-on name labels or even a snazzy stamp, don't forget to put their name on all their new belongings.
Bags of fun
From back-packs featuring characters from their fave film franchises and TV shows (is it wrong that even though we left school years ago, we still want a Bluey book bag?) to cool totes as seen on Insta, there's no end of options for school bags these days. Our top tip – make sure it's sturdy enough to last and has room for everything they need.
Don't forget, some schools have rules about what types of bags are allowed – remember to check that your child's bag of choice will be OK!
Refreshing ideas
Did you know that dehydration can cause headaches, tiredness, and low energy? Help keep your kids at the top of their game by making sure they have plenty of water to get them through the school day. With six fantastically fruity flavours to choose from, there's bound to be a Macb that hits the spot to help them #livebold this school year.
Find out more about Macb here https://macb.co.uk/
*AD